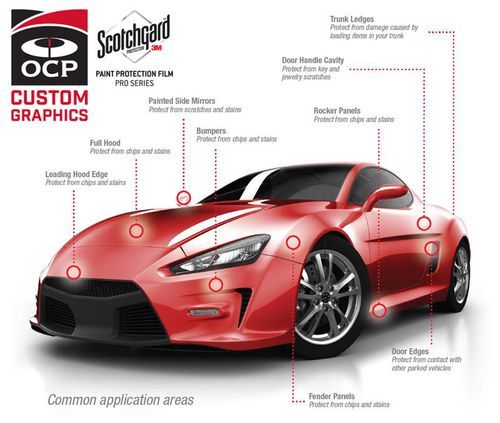 3M Scotchgard Paint Protection Film
---
Protect the Beauty of Your Vehicle
Your vehicle's finish is put to the test by the road, parking lot, garage, weather and everyday use. Why not keep it looking great as long as you can? Scotchgard Paint Protection Film is simply the ultimate in paint protection. An exceptionally tough, ultra-clear urethane film, this advanced paint protection technology blends in almost invisibly with your vehicle's finish. Yet it offers unrivaled protection from almost anything the outside world can throw at it!
Peace of Mind for Paint
Scotchgard Paint Protection Film permanently protects the finish of you vehicle's most vulnerable areas. It's the only officially licensed paint protection film of NASCAR – tough enough to protect vehicles going 185 mph!
Our trained, certified installers make sure your new film is installed correctly for maximum visual appeal and unrivaled protection.
7 Year Warranty
Installed using 3M patterns customized to your vehicle for a perfect fit, Scotchgard Paint Protection Film provides industry-leading scratch and stain resistance along with exceptional clarity.