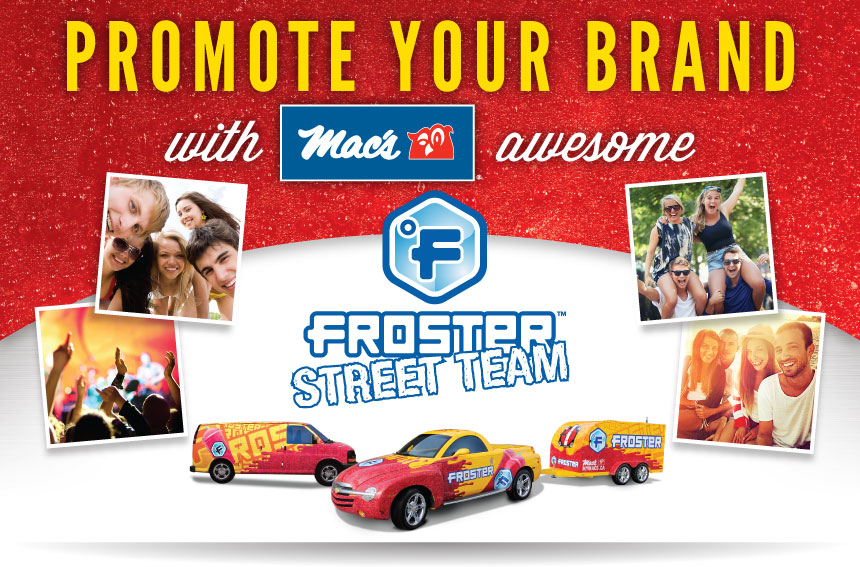 Take advantage of this fabulous opportunity to promote your brand with the Mac's Froster Street Team as they visit large-scale outdoor events across Western Canada this summer! The Froster Street Team Girls bring their van or Chevy SSR and trailer equipped with a wicked sound system, Sony Playstations and a Froster Machine and provide FREE Frosters, awesome tunes and gaming to event guests.
With hundreds to thousands of people per event, the Froster Street Team will promote your brand by distributing your very own custom coupons – redeemable exclusively at Mac's – to a huge, fun-loving audience!
The production team at Oil City Press Ltd. is ready to help you get your promotion underway. Design your own 3.5" x 2" coupon, or let our creative team do it for you. We'll produce and deliver your coupons (complete with UPCs for tracking and redemption) to the Froster Street Teams to hand out during their events. Contact Dave or Pam Kletke at 403-255-9466, or complete the form below for more information about this great marketing opportunity!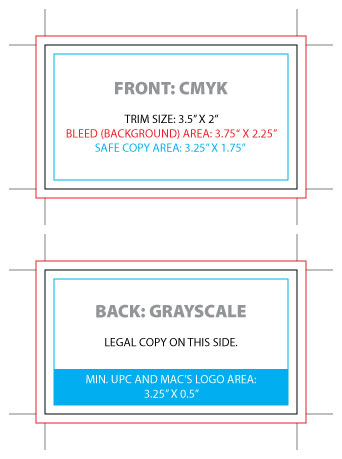 COUPON PRODUCTION SPECIFICATIONS
Layout:
Trim Size: 3.5" X 2"
Safe Copy Area: 3.25" X 1.75"
Bleed (Background) Area: 3.75" x 2.25"
Resolution: minimum 300 DPI
Colour Space- Front: CMYK
Colour Space-Back: Grayscale
Acceptable Formats:
- Adobe InDesign CC or earlier (*.indd)
- Adobe Illustrator CC or earlier (*.ai, *.eps)
- Adobe Photoshop CC or earlier (*.psd, *.tif )
- Adobe PDF (*.pdf)
- JPEG (*.jpg)
- TIFF (*.tif )
Please give files a unique name (i.e. ABC COMPANY COUPON.pdf ). Remember to supply all supporting fonts and graphics where necessary.
Click the image on the left to download an artwork template.

---
PROMOTE YOUR BRAND WITH MAC'S FROSTER STREET TEAMS!
Please complete the form below to receive more details regarding this promotion (items in red are required). If you wish, you may upload completed production files or a sample for reference. Please ZIP folders containing multiple files prior to upload.